Make better, faster, smarter business decisions with Hey Yabble
It's a new dawn for the world of insights.
Our revolutionary AI-powered insights generator, Hey Yabble uses a unique combination of Yabble proprietary algorithms and OpenAI's GPT-3 neural network to generate rich, detailed insights from your unstructured text data.
It's remarkably fast and powerful, and the insights it produces have the potential to transform your business.
Choose from Hey Yabble's two key functionalities — Count and Query — or use them together to get the best, most targeted results.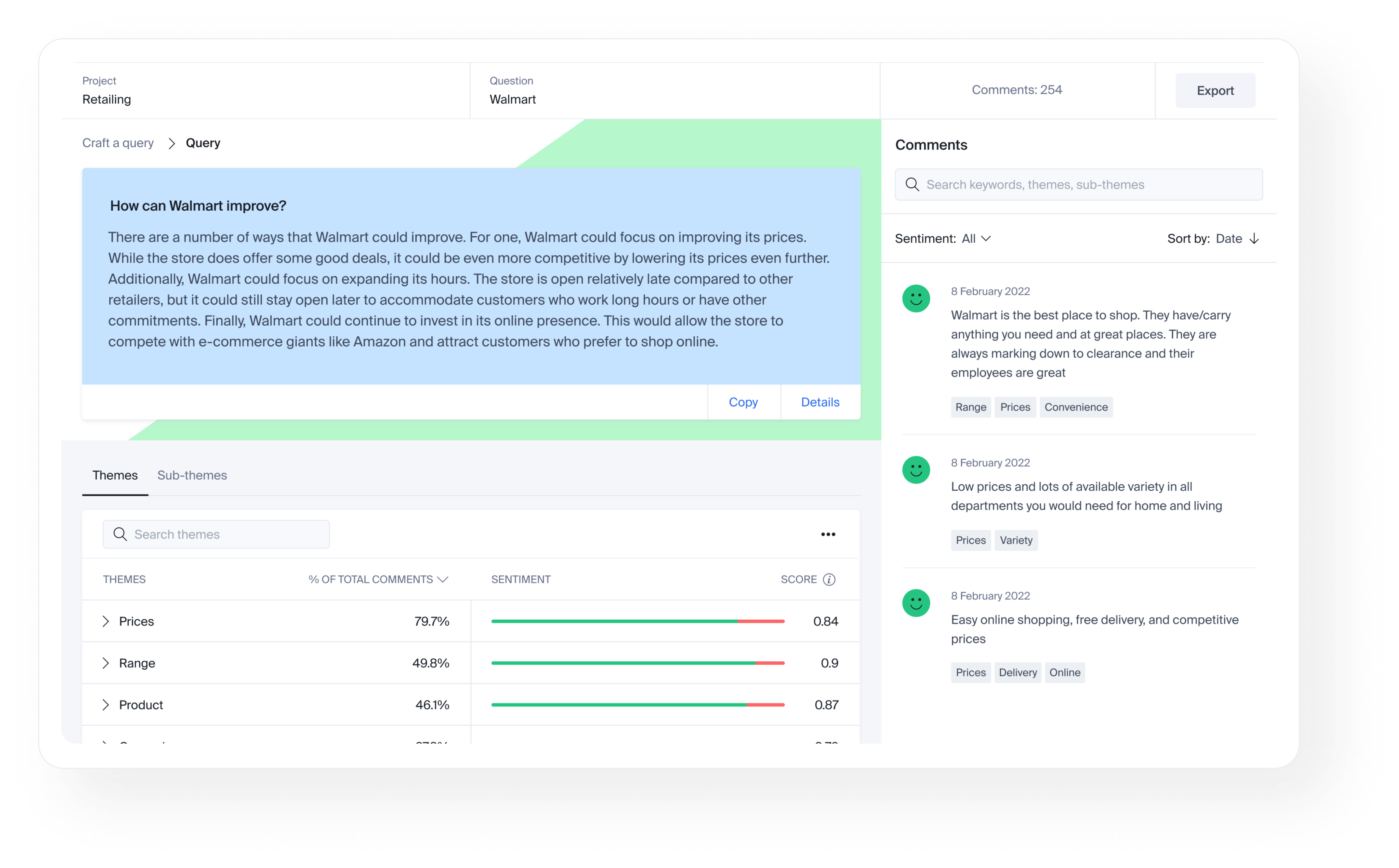 World-leading technology
Hey Yabble's AI technology is unique to our business. It uses a remarkably fast and accurate combination of our proprietary algorithms and OpenAI's state-of-the-art GPT-3 neural network.
Improved productivity
Hey Yabble takes huge amounts of manual work off your plate — to date, it's saved customers more than 1,500,000 minutes of time — enabling you to focus on what really matters: driving strong business outcomes from your insights.
Instantaneous results
Hey Yabble's powerful AI creates themes and sub-themes for your unstructured text data and analyzes them for sentiment and insights — saving you hundreds of hours of manual analysis.
Richer audience understanding
Learn exactly how your customers are thinking and feeling, and make better strategic decisions substantiated by data.
Full automation
Our AI is pre-trained and fully automated, making it incredibly easy to use whether you're a research specialist or not. Just follow the simple three-step upload process, and you're off!
Counting and summarization
After counting and quantifying your data, Hey Yabble uses natural language processing to generate meaningful insights summaries that get to the heart of business performance.
Hey Yabble Count
Learn exactly what your customers are talking about and how they're feeling in three easy steps.
Hey Yabble Count analyzes your unstructured text data for theme counts and sub-theme counts, applying sentiment to those insights to give you a rich, detailed understanding of your audience.
Once you've received your results, you can filter and mine your data however you'd like — ensuring you're extracting every last ounce of value from your Hey Yabble analysis.
Dive into your insights, and easily pinpoint the #1 thing you can do to drive business growth. It's that simple.
Tell me more about Count
Hey Yabble Query
Hey Yabble does the heavy lifting for you.
Ask any question of your unstructured text data, and Hey Yabble Query will use its cutting-edge proprietary technology and unique mix of natural language processing, understanding, and generation to create a summary of actionable insights in just minutes.
Simply select the data you want to mine, craft your question, and voilà! Automated insights at the click of a button.
Tell me more about Query
Ready to
supercharge

your insights?
Let us show you how Hey Yabble Count and Query can automate your insights, improve your customer experience, and transform your business.