Improve productivity and save hours of manual analysis time with the click of a button.
Hey Yabble Query is fully automated, turning thousands of pieces of feedback into actionable insights summaries in just minutes.
Using a unique combination of Yabble proprietary algorithms and OpenAI's sophisticated GPT-3 neural network, it analyzes your unstructured text data with unparalleled ease and speed — generating rich insights that you can use to transform your business.
Building a world of insights
—

without a world of questions
Instantaneous results
995 times faster than a human, Hey Yabble's powerful AI analyzes 10,000 comments in minutes flat.
World-leading technology
Hey Yabble is powered by an unprecedentedly sophisticated combination of our proprietary algorithms and OpenAI's GPT-3 neural network. This technology is unique to Yabble and unlike anything else on the market.
Precise, actionable insights
Proprietary algorithms built by research experts ensure accurate results you can trust.
Huge time savings
With the hours and hours you save while Hey Yabble does the analysis for you, you're free to focus on other important tasks.
More (and better) insights from your data
Ask your customers one question, and query the feedback as much as you like. Mine the data for multiple opportunities to drive improvement and growth.
Easy trend tracking
Effortlessly identify and track trends to anticipate market changes and inform strategic decision-making.
Richer, deeper, automated insights
Hey Yabble does the heavy lifting for you. Ask any question of your data, and our AI-powered tool will use its cutting-edge proprietary technology to instantaneously generate fresh, actionable insights. Just select the data you want to mine, craft your question, and voilà! Automated insights at the click of a button.
Watch Hey Yabble Query in action
Hey Yabble Count + Query: the best bang for your buck and the best value for your data
Want even deeper, richer insights that can help you improve the customer experience and grow your business?
Use Hey Yabble Count and Query together for the most powerful results.
Count generates theme counts, sub-theme counts, and sentiment analyses, allowing you to identify areas of feedback that are worth diving deeper into. Once you've pinpointed these areas, you can run a Query right from your Count results.
It's a quick, easy process with the potential to transform your business.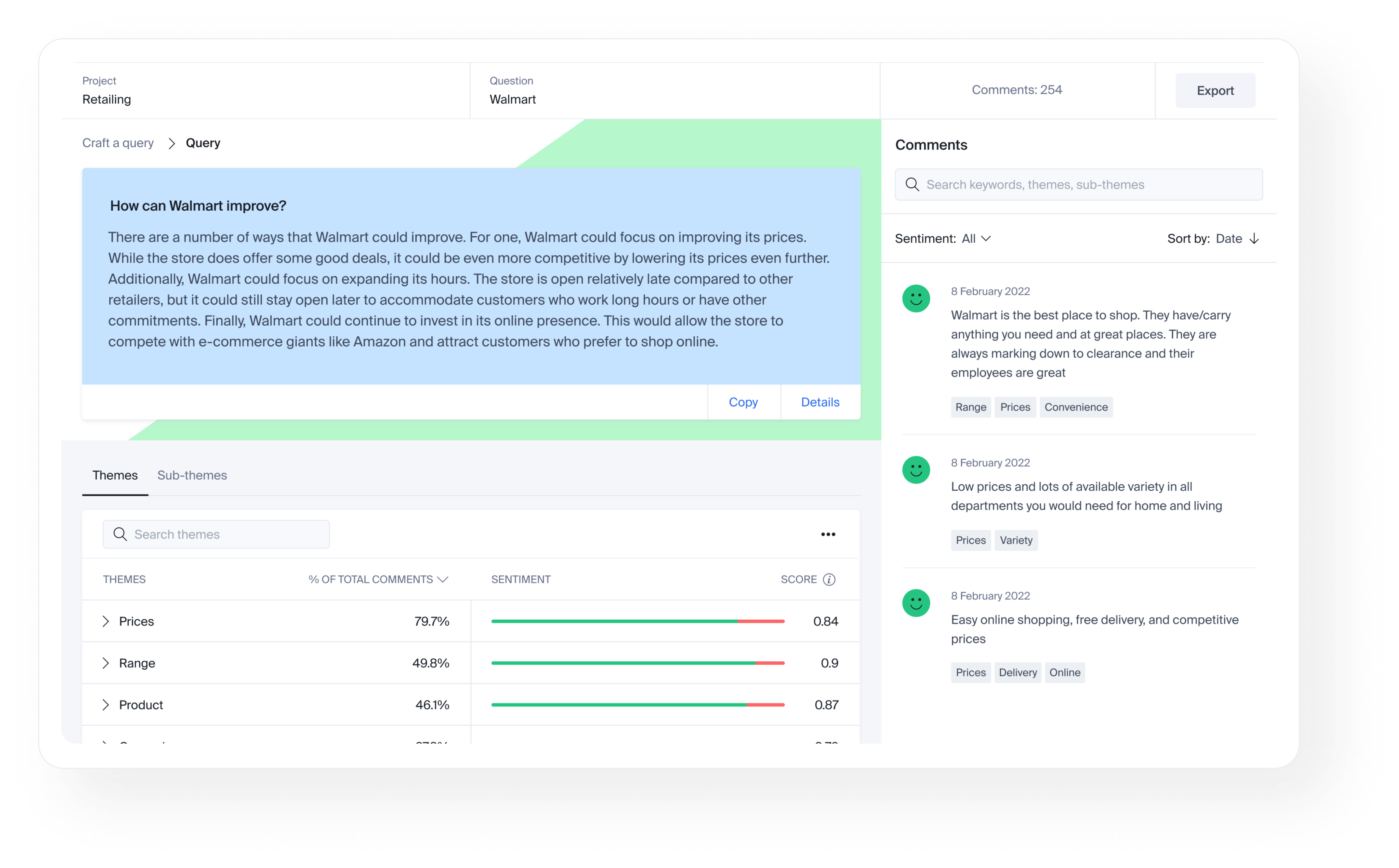 "We've been really impressed with the new Hey Yabble tool. It's incredibly fast and accurate. In comparing Hey Yabble outputs to those created by our insights team, we were able to confirm the accuracy and speed of analyzing complex questions, as well as to uncover a couple of emerging trends. Hey Yabble is a strong step-change in using AI technology to enhance CX insights and outcomes."
Jeremy Duffin
Customer Experience & Insights Manager | Sky Television (NZ)
Ready to
supercharge

your insights?