Start chatting with Gen today! Ask unlimited questions, dive deeper into emerging trends or focus on a particular topic - it's all possible with Gen.
Start a conversation with your data today – get insights instantly.


Unlimited insights, in an instant, across all data types
Integrate your data sets
Connect any type of data from longer qualitative interviews to shorter product reviews and surveys. Gen delivers insights across them all.
Be confident your data is secure
Yabble operates a 'walled garden' approach to your data to ensure customer data is not used to train language models like OpenAI's ChatGPT. Data peace of mind guaranteed.
Create unlimited insights instantly
Fast, smart and iterative, Gen delivers insights immediately using the best natural language models.
What does Beta release mean?
Use Gen together with Count & Summarize for the richest insights
You can use our game-changing AI tools separately to achieve powerful results or why not maximise the impact by combining them.
Let Count analyze your unstructured data for themes, sub-themes, sentiment, and trends — and then dive into the "why" behind those insights using Gen.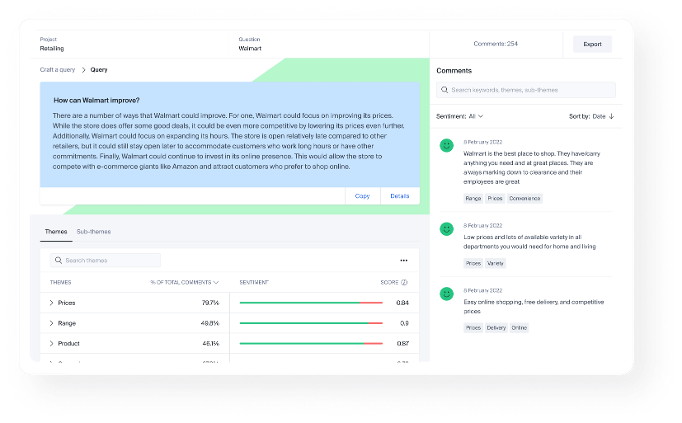 "I love being able to chat with my data. It's perfect for diving deeper into all the different topics and getting insights quickly. It's super easy to use."
Early Beta User

Ready to
supercharge

your insights?