Get detailed summaries of your long-form data effortlessly — in minutes, not hours.
Forget painstakingly reading through transcripts, sifting through notes, and inefficiently collaborating with teams. Built using Yabble's world-leading AI technology, Summarize generates accurate summaries of long-form data such as interview and podcast transcripts at unprecedented speed.
Summarize it and free your mind to apply the human insight!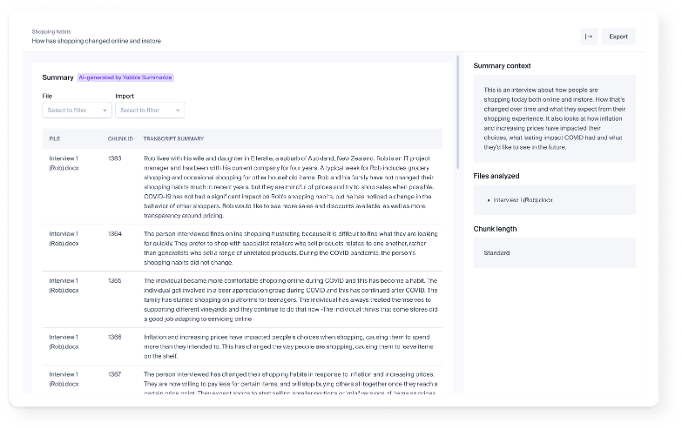 Faster, smarter, automated.
Summarize it — and free your mind to apply the human insight.
Accurate, in-depth summaries of long-form data
The precision of your summaries is critical. We designed Summarize to ensure your results are both accurate and cover the breadth of information contained in your data.
Major time savings and improved productivity
Yabble's fully automated AI technology makes manual reading and note-taking a thing of the past. Just think what you could do with those hours saved!
Easy collaboration with teams and stakeholders
Easily collaborate within teams and with key stakeholders, and use your Summarize output to quickly and efficiently share key insights from your data.
Want rich insights from your Summarize output?
So you've Summarized it — now Query it.
Start a conversation with your results by asking an open-ended question. Then sit back, watch the magic happen, and let Query help you find the "why" behind your data.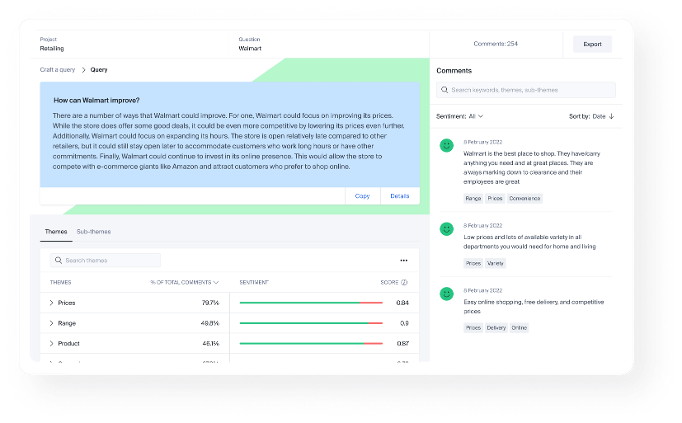 "We've been really impressed with the new Hey Yabble tool. It's incredibly fast and accurate. In comparing Hey Yabble outputs to those created by our insights team, we were able to confirm the accuracy and speed of analyzing complex questions, as well as to uncover a couple of emerging trends. Hey Yabble is a strong step-change in using AI technology to enhance CX insights and outcomes."
Jeremy Duffin
Customer Experience & Insights Manager | Sky Television (NZ)
Ready to
supercharge

your insights?