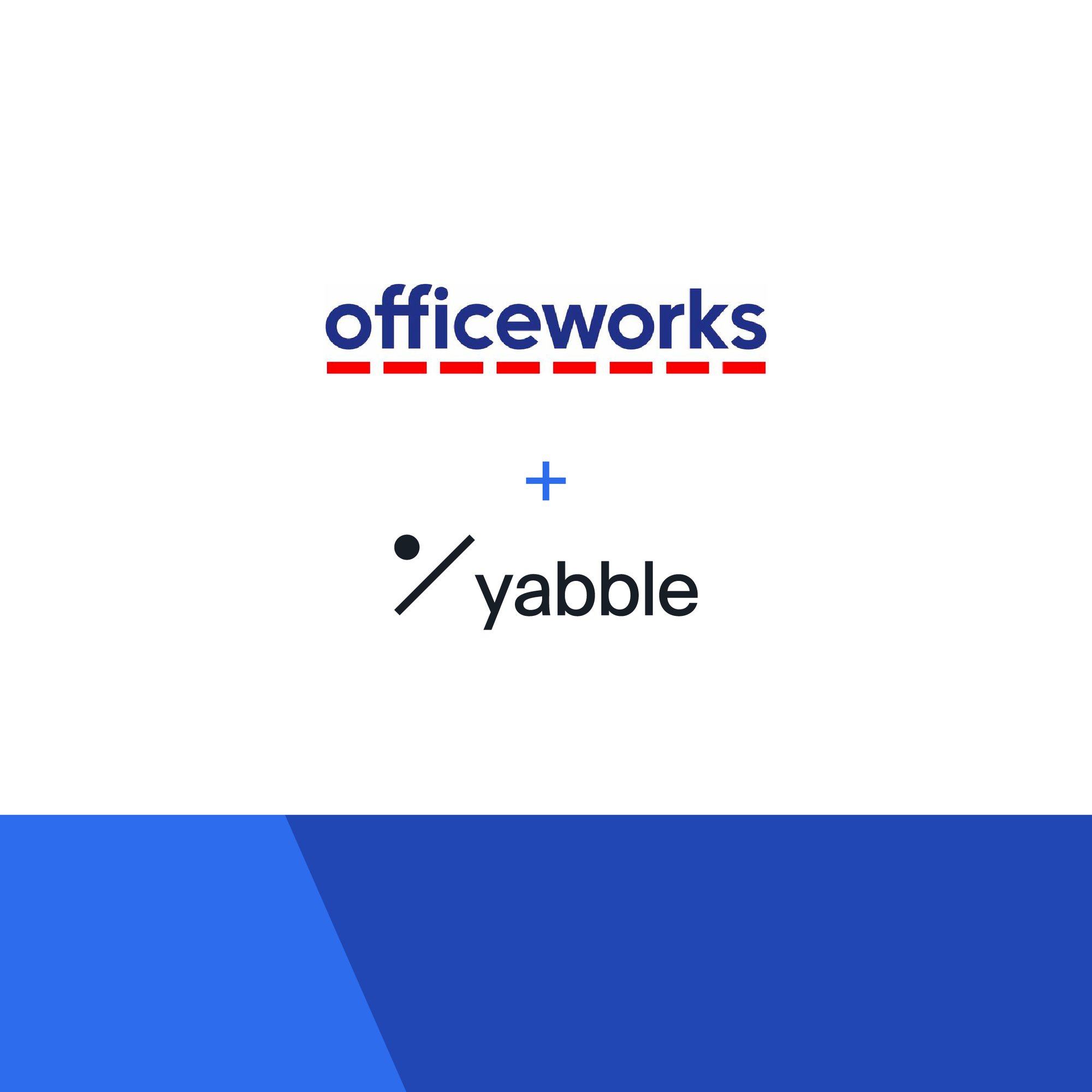 Spotting customer trends and saving time with Generative AI
The challenge
Officeworks was looking to spot customer trends faster while streamlining their manual coding process which was laborious, inefficient, and prone to inconsistencies.

The Yabble factor
Yabble's speed and efficiency helped Officeworks analyze thousands of open-ended responses in minutes rather than days. The team has eliminated the need for manual coding to produce results — saving considerable costs and up to eight hours on every project. Yabble also helped Officeworks improve errors and inconsistencies in the original manual coding process by completely automating the coding and processing of data using Yabble Count. All this was done while providing easy to understand, actionable insights at a themes and sub themes level. Using Yabble, they now, have more time to spend improving the customer experience rather than processing data.
How Officeworks used AI to Yabble it
With Yabble's AI solutions Officeworks has already saved over 37,000 minutes of time, has a ROI of 70% over traditional analysis processes, and has been able to improve in-store navigation and click and collect experiences for customers.
+
Minutes of time saved using Yabble
%
ROI over traditional analysis processess
How Officeworks improved productivity with AI insights
"Our team's biggest challenge was the sheer amount of open ended data that needed to be reviewed manually. Our staff would sometimes review more than 2,500 pieces of data a week! It was a non-sustainable long term process.Yabble provided us with a great long term solution and replacement for manual coding."
Customer Insights Analyst - Glenn Marshall
Officeworks has been Australia's home for office supplies, furniture, technology and student supplies, for the last 25 years. They focus on delivering their customers a wide range of products at low prices paired with great service. Service is particularly important to Officeworks because they value their customer relationships. They are also proud of how they support small businesses and individuals on their educational journeys.
The problem
In-store customer experience is a priority for Officeworks so they are constantly looking for ways to make improvements. One of the ways they hoped to make improvements was to use trends and themes uncovered in their customer feedback data. This required Officeworks to uncover trends or possible in-store issues before they became full blown issues. The problem though was they had massive amounts of open ended data and no system in place to analyze it quickly, accurately and cost efficiently, relying on a fully manual process to gain insights from thousands of pieces of data a week!
The Solution: Yabble AI's speed and efficiency helped Officeworks point customers in the right direction.
Working with the Officeworks team, we used Yabble Count to automate and streamline the analysis process. With AI Yabble quickly turned thousands of open-ended customer comments into actionable insight. This allowed the Officeworks team to come up withaddress issues and enhance their customer experience quickly and efficiently. A vast improvement from the subjective, slow and inconsistent outcomes associated with the manual coding process.
"Our manual coding process was prone to inconsistencies and highly inefficient. Yabble provides us with quicker access to usable data and the ability to identify trends or problems we weren't aware of and then make necessary course corrections."
Customer Insights Analyst - Glenn Marshall
1. Yabble's AI insights guided Officeworks to an improved in-store navigation
One of the findings Yabble uncovered in the Officeworks data was customer confusion around the current in-store order pick up process. This confusion was due to lack of signage or a dedicated location across stores for in-store pick ups. Using the Yabble AI findings, Officeworks developed a simple solution that made it easier for customers to find the in-store pick up location - floor signage! This simple but straightforward solution created consistency across all stores, regardless of layout, and vastly improved the customer experience.
2. Yabble's AI insights allowed Officeworks to optimize order collection times
Yabble also uncovered a second trend in the Officeworks in-store order pickup experience. Customers had a 'sweet spot' or acceptable amount of time they were willing to wait for their order once they arrived in store…3 minutes. But many customer orders were taking 5-10 minutes for staff to find once the customer arrived in store. In order to combat the long wait times, Officeworks developed a notification system – email or SMS – that allowed the customer to notify a store when they were on the way so their order was ready upon arrival. Customer wait times dropped dramatically and customer satisfaction increased.
The future: So, what's next for Officeworks and Yabble?
"Being able to access our data in digestible pieces has been hugely beneficial in helping us spot customer trends. We see the stories and themes that need attention and are able to take action quickly to help provide our customers with the best possible in store experience."
Customer Insights Analyst - Glenn Marshall
Officeworks and Yabble plan to continue their already long standing partnership. With the demand increasing for quality insights being produced and analyzed quickly and accurately, the Officeworks insights team already has their sites set on an upcoming project for Yabble.
"Yabble has become a vital part of our organization. We have ongoing needs to regularly code and analyze high volumes of open ended data and Yabble enables us to do this more efficiently than ever."