Ask your data questions, and watch as Query uses its cutting-edge AI technology to generate insights in minutes flat.
Query is fully automated, turning thousands of pieces of unstructured feedback into rich insights summaries with the click of a button.
Simply select the data you want to analyze — from product reviews to social media comments to NPS feedback and more — craft your question, and you're off. Rich insights at your fingertips.
Understand the "why" behind your data with Query
Natural-language summaries based off your unique questions
Ask any open-ended question ⁠— "What improvements do customers want to see in my online shopping experience?" for instance ⁠— and get an accurate natural-language summary of the answers you need.
Results in minutes, not hours or days
Forget waiting days (or even weeks!) to dive into your insights. Query's best-in-class AI is 995 times faster than an expert human coder and analyzes 10,000 comments in minutes flat.
Accurate insights = smarter business decisions
Query's cutting-edge tech is designed by research experts with firsthand knowledge of the complexities and pain points of insights. The result? Precision and accuracy that you can trust.
Watch Query in action
Ask any open-ended question of your data, and our AI-powered tool will use its world-leading technology to instantaneously generate rich insights. Just select the data you want to mine, craft your question, and let Yabble's AI do the heavy lifting.
Use Count and Query together for the richest insights
You can use our game-changing AI tools separately to powerful result, but you'll get maximum impact when you combine them.
Let Count analyze your unstructured data for themes, sub-themes, sentiment, and trends
— and then dive into the "why" behind those insights with Query.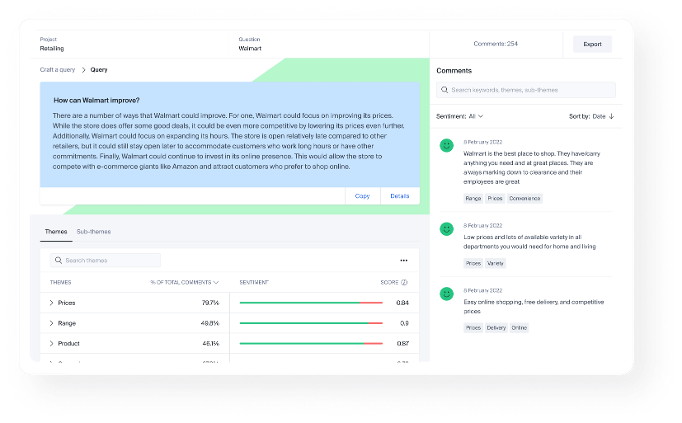 "We've been really impressed with the new Hey Yabble tool. It's incredibly fast and accurate. In comparing Hey Yabble outputs to those created by our insights team, we were able to confirm the accuracy and speed of analyzing complex questions, as well as to uncover a couple of emerging trends. Hey Yabble is a strong step-change in using AI technology to enhance CX insights and outcomes."
Jeremy Duffin
Customer Experience & Insights Manager | Sky Television (NZ)
Ready to
supercharge

your insights?