The Yabble ChatGPT Plugin

Insights on any topic, any audience or any market in an instant. The Yabble ChatGPT Plugin works by using the combined knowledge of ChatGPT, social media and global trend data to answer research questions in minutes.
This is augmented data, the future of research now.
Benefit from Yabble's leadership in Generative AI
Thousands of R&D hours, decades of research experience and multi year knowledge of using GPT technology have created the world's first verified ChatGPT plugin for research.
Reach global audiences with augmented data
Yabble's unique approach uses a combination of ChatGPT, social media and global trend data to create an AI-generated audience to answer your research questions.
Be confident your data is secure
Yabble operates a 'walled garden' specifically ensuring customer data is not used to train GPT models when this data is inside the Yabble platform.
Yabble ChatGPT Plugin FAQ
How does the Yabble ChatGPT Plugin work?
How do I access the Yabble ChatPGPT plugin?
Can I ask any research question for any audience?
How much data can I create?
How to I conduct further research on my insights?
Is data protected when I use the Yabble ChatGPT plugin?
How much does it cost to use the Yabble ChatGPT plugin?
Any topic, any market, instant insights
Don't stop at instant AI insights creation. Use Yabble's tools to analyze your unstructured data for themes, sub-themes, sentiment, and trends — and then dive into the "why" behind those insights using Yabble's chat tool Gen.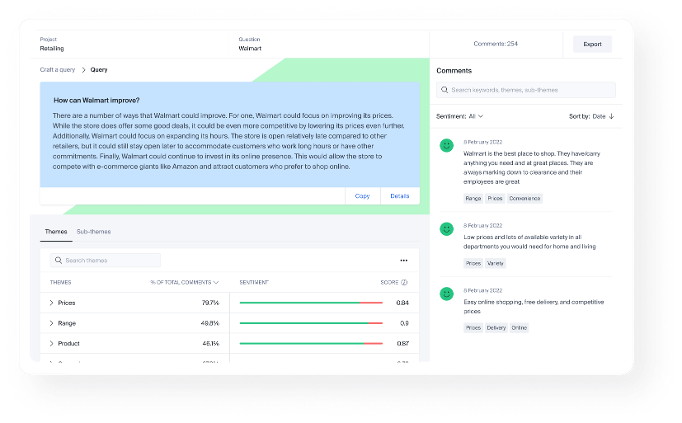 "We've been really impressed with the new Hey Yabble tool. It's incredibly fast and accurate. In comparing Hey Yabble outputs to those created by our insights team, we were able to confirm the accuracy and speed of analyzing complex questions, as well as to uncover a couple of emerging trends. Hey Yabble is a strong step-change in using AI technology to enhance CX insights and outcomes."
Jeremy Duffin
Customer Experience & Insights Manager | Sky Television (NZ)
Ready to
supercharge

your insights?